Late Round Madness (Rounds 9-15
4/1/20
Ethan Cowlbeck
As we continue the mock draft series, Ethan digs into rounds 9-15. Giving us a good idea of specific targets in each round! if you missed the other mock draft rounds check them out here! Or find me on Twitter! https://twitter.com/DetroitBeastie
Round 1 https://www.dfscheatsheet.com/2020-fantasy-football-mock-draft-round-1/nfl/03/
Round 2 https://www.dfscheatsheet.com/2020-fantasy-football-mock-draft-round-2/nfl/03/
Round 3 https://www.dfscheatsheet.com/2020-fantasy-football-mock-draft-round-3/nfl/03/
Round 4 https://www.dfscheatsheet.com/2020-fantasy-football-mock-draft-round-4/nfl/03/
Rounds 5-8 https://www.dfscheatsheet.com/2020-mid-round-mock-madness-rounds-5-8/nfl/03/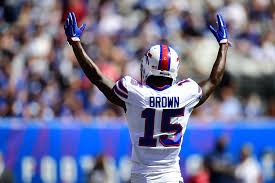 I know what day it is, but no jokes from me as I take a look at the players I think have the best chance of breaking out of the late rounds. John Brown last year was a perfect example. He finished the season with 147.8 PPR points after being drafted in the 12th round. Hitting on a couple of these players can give you a huge benefit against your leaguemates, so I'll walk you through rounds 9-15 using ADP data from Fantasy Football Calculator to find those players with the best shot at boosting your team.
Round 9
Robby Anderson (WR) – Carolina Panthers
ADP: 9.02
The Panthers have some serious instability at the wide receiver position. Anderson should fit into the offense as the WR2 behind DJ Moore, which alone provides stand-alone value. It doesn't end there. There's a legitimate chance that Curtis Samuel could be traded between now and the draft in April, and if that's the case, Anderson should see a huge number of targets.
Round 10
Emmanuel Sanders (WR) – New Orleans Saints
ADP: 10.08
Sanders is probably the best wide receiver to play behind Michael Thomas. With two high quality receivers on the same offense, defenses will be spread thin, leaving tons of opportunities for Sanders to get a huge chunk of the work. This is a perfect fantasy offense with not too many mouths to feed. At this value, Sanders is a slam dunk.
Round 11
TJ Hockenson (TE) – Detroit Lions
ADP: 11.05
It's rare for a tight end to break out in their rookie year. Hockenson was almost able to do that. After Stafford re-aggravated a back injury from 2018 and Hockenson finished the season with an injury of his own, that hope went away. If Stafford returns healthy this year, the connection between these two should be well established, and Hockenson will be in prime position to perform among the top tight ends in fantasy.
Round 12
Jordan Howard (RB) – Miami Dolphins
ADP: 12.03
We know based on his time in Chicago and Philadelphia that Howard has all of the talent needed. The question remains whether the Dolphins can make a serious push in their rebuild. Some of the pieces are already there, with wide receivers DeVante Parker and Preston Williams, and now Howard at running back. If the Dolphins can make an improvement at quarterback and offensive line, Howard should be slated for a productive year.
Round 13
Drew Lock (QB) – Denver Broncos
ADP: 13.06
When Lock came off of injured reserve last year to replace veteran, Joe Flacco, it was like a switch was hit. The offense was alive again, and the Broncos went on to win 4 of their last 5 games. The same weapons at wide receiver have all been retained, and depth has been added at the running back position. Lock will be expected to improve even more in his sophomore year and should come into play as a very startable second quarterback on fantasy rosters.
Round 14
LeSean McCoy (RB) – Kansas City Chiefs
ADP: 14.03
It's official that McCoy will not be resigning with the Chiefs in 2020, and he has stated that he has no plans to retire. While only speculations, the Chargers and the Eagles are potential landing spots. McCoy's 2019 season was unimpressive, but the Mahomes led offense showed to be very pass-heavy, and there wasn't enough work to make McCoy or starter Damien Williams strong fantasy options. McCoy is still a great player, and could prove to be the perfect addition for a team in the market for a running back.
Round 15:
Chris Herndon IV (TE) – New York Jets
ADP: 15.01
Everything that could go wrong for Herndon last year did. Suspended for 4 games, having Trevor Siemian as a quarterback while Sam Darnold was out with Mono, and a Hamstring injury to end the season. There is such a prominent chemistry that should exist between an athletic tight end like Herndon and a young quarterback in Darnold. Herndon is basically free in drafts and worth a look if you waited until late to draft your first tight end.
For future ADP articles, I plan to use ESPN instead of Fantasy Football Calculator. As of now, it's early in the season and some ADPs on FFC just don't make sense. Regardless, I'm coming up with more and more ideas for content I want to bring to you guys. Lets have some discussions! If you disagree with any of my picks, let me know why. I look forward to hearing your thoughts. That's all from me until next time!
Thank you for reading! Any questions or comments?
Did I miss someone? Let's talk about it!
Find me on Twitter right here! https://twitter.com/DetroitBeastie
Or on DFScheatsheets.com https://twitter.com/dfscheatsheet1